What's drumkv1 ?
drumkv1 is an old-school all-digital drum-kit sampler synthesizer with stereo fx.
Features:
a pure stand-alone JACK client with JACK-session, NSM (Non Session management) and both JACK MIDI and ALSA MIDI input support;
a LV2 instrument plug-in.
URI: http://drumkv1.sourceforge.net/lv2
drumkv1 is free, open-source software, distributed under the terms of the GNU General Public License (GPL) version 2 or later.
Sourceforge project page: http://sourceforge.net/projects/drumkv1
Weblog: http://www.rncbc.org
See also:
synthv1 - an old-school polyphonic synthesizer;
samplv1 - an old-school polyphonic sampler;
padthv1 - an old-school polyphonic additive synthesizer.

Screenshots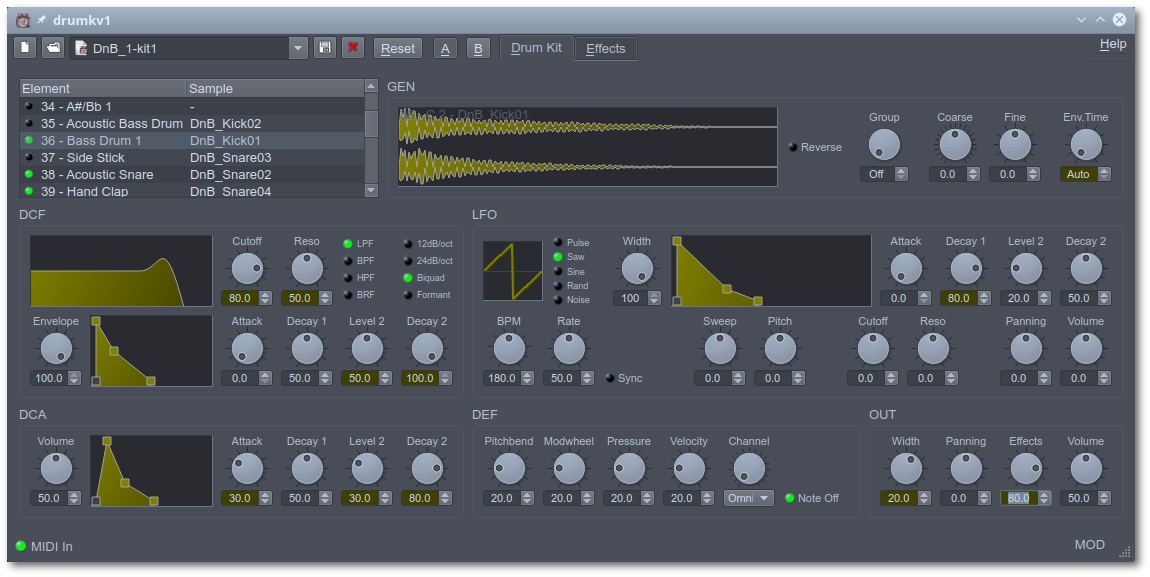 Click on image to see more screenshots...
Requirements
The software requirements for build and runtime are listed as follows:
Mandatory:
Optional (opted-in at build time):
Downloads
Latest release
2017-12-20 - The End of Autumn'17 release.
drumkv1-0.8.6.tar.gz
Set on a minimum attack time of 500usec as much to prevent audible clicking on low-pitched notes.
Previous and older releases, including the change log, are also available here. You may also check out from the latest bleeding edge development source tree, using Git.
You can browse all files available for download, including binary packages, at drumkv1 Files on SourceForge.net.
Installation
The installation procedure follows the standard for source distributions. In the extracted source directory, just do:
./configure [--prefix=prefix]

make
and optionally as root:
[sudo] make install
This procedure will end installing the following:
prefix/bin/drumkv1_jack (JACK standalone client)
prefix/lib/lv2/drumkv1.lv2 (LV2 plugin bundle)
Just launch prefix/bin/drumkv1_jack and you're off (hopefully). Note that the default installation path prefix is /usr/local.
Configuration
drumkv1 holds its settings and configuration state per user, in a file located as $HOME/.config/rncbc.org/drumkv1.conf. Normally, there's no need to edit this file, as it is recreated and rewritten everytime drumkv1 is run.
Bugs
Plenty still, however drumkv1 may be considered in beta phase already ;)
Support
drumkv1 is open source free software. For bug reports, feature requests, discussion forums, mailling lists, or any other matter related to the development of this piece of software, please use the Sourceforge project page.
You can also find timely and closer contact information on my personal web site.
Acknowledgements
drumkv1 logo/icon is an original fine work of Jarle Richard Akselsen.
Enjoy.